We invited a distinguished panel of past cricketers of repute – whose credentials extend to the hallowed boardrooms of our corporate world, coupled with an indelible knowledge not only of the gentlemen's game but also the inner workings of Sri Lanka Cricket (two having held senior positions in administering the game in the past) – to select the 30 Lions of the game produced by Ceylon and then Sri Lanka since 1932 – that was when Ceylon embarked on its first official overseas tour.
And the outcome, let us say, was an eye-opener for those of us whose passion for the game and Sri Lankan cricket in particular goes so far as to wonder who would make such a list of greatness – and truly stand out as Lions, in that they are head and shoulders above the rest.
As for the selection process, not to mention the thought process, here's how the esteemed 'panel of selectors' went about what one might consider to be a thankless task.
Q: How did you select the 30 greatest cricketers and why are they on the A-list?
There are two reasons as to why we selected them.
Firstly, we were guided by the basic premise that the cricketers we pick should have been truly outstanding in at least one of three disciplines – i.e. batting, bowling or fielding (Ben Navaratne is an example of the last mentioned).
Secondly, they should've made an indelible mark on the game at some stage in their careers – their 'Lion Moments' so to speak.
The 30 cricketing greats have been picked from three separate periods – namely, pre-independence, pre-Test status and post-Test status. In the process of selecting the 30 greatest cricketers, we assessed and analysed the performances and contributions of players who helped Ceylon and then Sri Lanka in each era.
Q: How do you view the evolution of cricket in this country since the early 1930s?
Ceylon and Sri Lanka have come a long way since the early 1930s. Our facilities were poor and we didn't have any competition against international sides; in many ways, we were like frogs in a well. Despite this, we produced cricketers of the calibre of C. H. Gunasekera (Snr.), Sargo Jayawickreme, F. C. de Saram and Mahadevan Sathasivam.
In many ways, it was the big schools like S. Thomas', Royal, Trinity, St. Joseph's and St. Peter's that played a part in local cricket's survival, its improvement and ultimate blossoming into a fully fledged member of the International Cricket Council (ICC).
Thereafter, others joined the growing number of cricket playing schools; and today, they are perhaps better than some of their predecessors.
Even in the early '50s, there were few turf wickets in the country apart from those at the SSC, Tamil Union and a few other major clubs. Trinity was the only school to have a turf wicket – in Asgiriya. But the schools encouraged cricket in one form or another and that is what sustained the game over those years.
After the World Cup victory in 1996, the floodgates opened and everybody wanted to play a part in Sri Lanka's cricket revolution – and of course, the game has grown exponentially and continues to grow.
The then Ceylon was fortunate that during the colonial era, the British fostered the game of cricket in schools and the provinces. Soon club cricket was introduced and this helped school leavers to further their skills.
A few Ceylonese made it to the national side to play against countries like England and Australia on their stopovers between the two countries. And during this early period, a fortunate few had the opportunity of playing university and county cricket in England.
The West Indians were the first overseas side to play two unofficial Tests in this country (in 1950). Following independence, the national team comprised only Ceylonese, and their performances against neighbouring India and Pakistan were extremely competitive.
Cricket and its structure were in good hands under the Ceylon Cricket Association, the governing body that subsequently changed to Sri Lanka Cricket Board and now Sri Lanka Cricket. When we gained Test status on 21 July 1981, our performance against opponents from overseas was commendable although not exceptional.
Our victory in the 1996 ICC Cricket World Cup however, proved we were worthy of the Test status bestowed on us by the ICC.
Q: And how do you view Test, ODI and T20 cricket?
Test cricket will always remain Test cricket. Kusal Perera's single handed battle against South Africa in February this year showed what Test cricket is all about; it's a test of character, resilience and above all, excellence. And indeed, one can cite hundreds of instances such as this over the years.
One-Day cricket could be a danger to the popularity of Test cricket and it prevents a good cricketer from developing his game. One has to realise that the basics are taught on a cricketer's path to playing Test cricket. ODI cricket is a departure from orthodoxy and it encourages improvisation.
T20 is perhaps a desperate attempt to retain the game's popularity although one is inclined to acknowledge that a good Test cricketer can be a good ODI or T20 player too. The reverse isn't possible.
There is no substitute for Test cricket. The shortened forms of 20 and 50-over cricket attract spectators for their entertainment value. But they will never replace the beauty of Test cricket.
Q: How do you compare our cricketers before and after we gained Test status?
There was a quantum change before and after gaining Test status – for one simple reason: once Sri Lanka gained Test status, we were exposed to international competition more often; and as this progressed, our game improved. It was the lack of international competition that inhibited our progress until then.
There were great cricketers in the pre-Test era who would have performed well in the present day and age, had they been playing today.
Q: What did the World Cup victory in 1996 mean for Sri Lankan cricket?
The 1996 World Cup victory meant everything for Sri Lankan cricket. We had already made a name in Test cricket but it was this victory that proved our credentials to the cricket playing world in the context of who we were and what we could do. It electrified the whole country and even in rural areas, everybody wanted to be a cricketer.
The downside is that commercialisation crept into the game. We have suffered so many downsides not worth talking about with allegations of match fixing not being the least.
Winning the World Cup in 1996 was a tremendous boost for Sri Lanka because we stamped our name on the international cricket arena. It also gave the cricket authorities the bargaining power they needed to secure TV rights, which helped the cricket board to remain financially stable. This meant that commercialisation had crept into the administration of the board.
Q: And likewise, what did the 2014 T20 World Cup win mean for Sri Lankan cricket?
The T20 World Cup victory further strengthened our position in world cricket.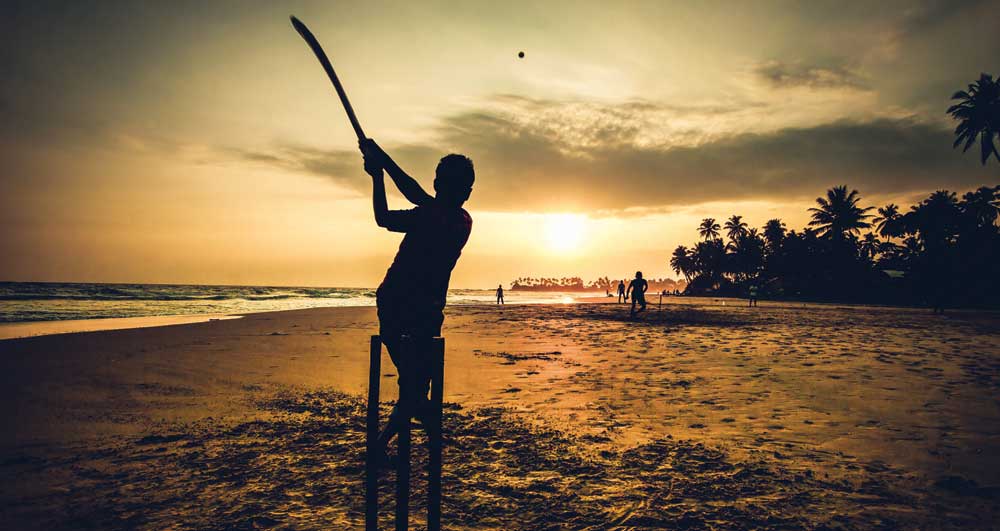 Q: In your assessment, how have we performed since the World Cup victory in 1996?
We've done reasonably well since the 1996 victory. Our cricketers are more confident and can take on any opposition without carrying the weight of a perceived inferiority complex – and in the main, we have Arjuna Ranatunga to thank for this.
Since the 1996 victory, we have featured in the finals of two ODI World Cups.
In addition, our cricket has come a long way in the longer version of the game and we hold a proud record of winning a high percentage of Test matches at home.
Q: How would you rate Sri Lanka's international venues?
We have good cricket venues, which are adequate for a country our size. We have six Test venues, and all these grounds have excellent facilities for both spectators and players.
Q: Your take on Sri Lankan cricket fans is…?
Sri Lankan cricket fans are in a class of their own. They enjoy themselves at cricket matches, not necessarily watching the game!
On the other hand, they're very supportive of the national team and knowledgeable about the game. Sri Lankan cricket would have a lot to lose without their presence – the fans keep Sri Lankan cricket alive.
Q: Can you name five players from the list of 30 greatest cricketers as being firsts among equals – meaning the best of a great lot?
Our picks are Mahadevan Sathasivam, F. C. de Saram, Muttiah Muralitharan, Mahela Jayawardene and Kumar Sangakkara – in addition to Bertie Wijesinghe.
Q: And last but not least, who would you pick as the best batsmen, bowler(s) and all-rounder(s)?
Aravinda de Silva and Mahela Jayawardene would be our choices for best batsmen, Muttiah Muralitharan for best bowler and Sanath Jayasuriya for best all-rounder.