We Sri Lankans are a funny lot. We can be irrational, illogical and downright bizarre, and we have a track record to prove this! We can also be emotional, passionate, relentless and loyal to what we love.
And our religion?
It's cricket, of course!
We complain about too much work, yet don't think twice about taking time out to watch Sri Lanka play. And we don't mind standing for hours on end to window shop – in fact, this takes the form of staring at just one television screen – any TV, mind you! – from outside one of the many consumer electronics shops in town. There's no intention to buy one.
When dining out, we angle our chairs so we have an unobstructed view of the TV hanging in a corner. We feel as patriotic to the blue T-shirt branded with the famed lion logo as we do to our national flag – and if the talk on social media when rumour had it (as it turned out, this was mere speculation – a rumour) that Kumar Sangakkara would run for the nation's top job is anything to go by, he may have followed the legendary Imran Khan to land the highest post in the land!
And last but not least, we never tire of reliving the 1996 Cricket World Cup victory!
Like many things that define life in our paradise isle, cricket came from the Brits but we've virtually adopted it as our national sport, blissfully ignoring the fact that we should be celebrating volleyball instead.
The game of gentlemen has become such an integral part of life that kids grow up with it, adults live around it, and families plan their parties and gatherings around cricket matches that involve Sri Lanka. And for most Sri Lankan fans, the best literary experiences of their lives revolve around the likes of ESPNcricinfo.
Sri Lankan cricket has been the one thing that has united the country and its people over the decades – through war, a tsunami and political turmoil. Race, religion, age, gender or political affiliations don't count when it comes to cricket. Sri Lanka and Sri Lankans are one.
And when the Lions play, everybody cheers!
In the grounds, on pavements, inside offices, at home or in sports clubs in front of giant screens, cricket fans – even those who don't know the difference between an lbw and being stumped, let alone where silly mid-on and cover point are! – never fail to don their patriotic hats…
And when the runs start flowing or wickets tumble, the boys and girls reach a high – and vice versa!
So what if we lose? Or worse, if India wins?
Yes, we criticise the team but like any love story, we soon forget our qualms and jump in the saddle once again. As we will do when an under pressure Sri Lankan squad travels to the antipodes – England and Wales, to be precise – to test its strength at the forthcoming ICC Cricket World Cup 2019.
That the nation will come to a standstill on match days (or nights, as the case may be) is a given.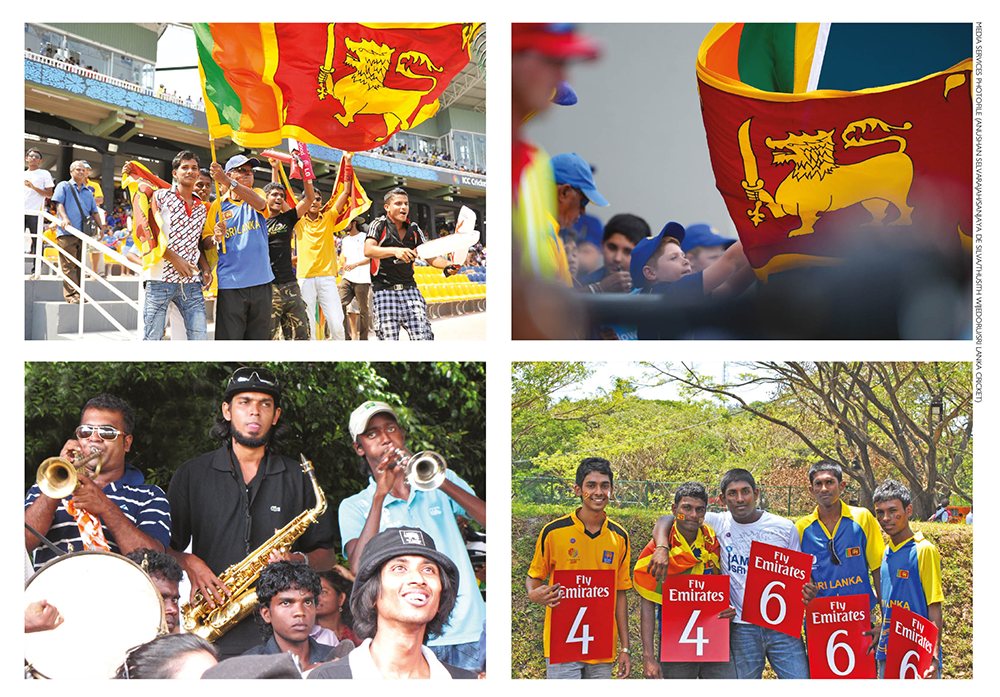 Cricket fans come in many shapes and forms here in Sri Lanka, and their passion for the game and the national team is unmatched in any other sphere of activity. And let's not forget the large diaspora fan club. Sri Lankans residing in foreign lands rarely miss a game involving their motherland; and it is then that many of them change colours with the Sri Lankan-Aussie suddenly waving the Sri Lankan flag at the super-large MCG.
And then we have the greats among fans like Percy Abeysekera. With an uninterrupted track record of some 60 years of watching every game, cheering the boys and being recognised by just about every team (he even does his rounds in the Indian dressing room and is loved by the players), he is a one-man cheering squad for Sri Lankan cricket and a brand ambassador for the game – he is in the ranks of India's Sudhir Kumar Chaudhary and Pakistan's Chacha Cricket.
There are also the lucky ones like ardent fan Gayan Senanayake who rose to fame after being personally invited to the Virat Kohli-Anushka Sharma celeb wedding in Mumbai not long ago.
The number of cricket fans who feel that a game must be watched at the grounds runs into the thousands. Among them are the fans you'd see cheering their team on with flags, signs of 'six' and 'four,' a range of messages written on boards, painted faces and even party wigs!
Malinga lookalikes are everywhere, such is his cult image not only here in Sri Lanka but reportedly in Bollywood (and cricket) crazy India and as far afield as the Caribbean!
Stadium fun also calls for cups and cups of diluted beer, the inevitable hotdogs and of course, the ear splitting papare band that gets everyone into the groove. Having said all that, Sri Lankan fans rank among the most well-behaved and disciplined creatures who watch cricket.
There are the not so hardcore fans (and some from the core too) and armchair critics who opt to watch Sri Lanka play on their TV screens or YouTube on a smartphone – their take on this is that one has a better view of the goings-on in addition to expert commentaries, replays and the like.
Those who want the best of both worlds so to speak, get the gang (and the spirits, of course!) together and if they're serious, find some pom-poms and flags… and scream (at the screen!) when a catch is grassed, a wicket falls or there's a run out. And there's sheer joy when runs are scored and wickets fall!
Viewers at home might be missing out on the Mexican wave but these cricket parties can get pretty 'Sri Lankan hot.'
Some fans can become a tad too emotionally attached to cricket for their own good. Like young Keerthi Gunathilake who reportedly died from cardiac arrest when India defeated Sri Lanka in that epic ICC Cricket World Cup final in Mumbai in 2011.
And others can be in the game for gambling. Like the notorious fruit seller who is said to have died from shock after losing a bet that India would win the ICC T20 World Cup in 2014.
From kids playing cricket with a piece of wood and rock wickets, and young and not so young men gathering on a Sunday afternoon to enjoy a good game, to grandmothers offering pooja for a Sri Lankan victory on the day of an international match and diehard fans secretly checking match updates on their phones at office, cricket is everywhere!
It is a steadfast love that keeps aflame in the hearts of Sri Lankans. It's a fever that never ceases because win or lose, we are the champions!
For Sri Lankans, cricket is much more than a sport; it's our pride, legacy, heritage and the undeniable gel that keeps us bonded!
May the lion roar between 30 May and 14 July.